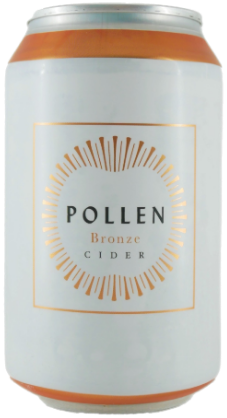 Pollen 'Bronze' Cider 2020
Pollen Bronze is our little rebel in a 330ml can from Herefordshire apples farmed to organic standards. It sees a 12-hour maceration with the pulp after crushing before pressing to tank for a wild fermentation over winter.
Bronze is our more accessible cider in terms of format and taste. It still shows the characteristic purity of its bigger brothers but is very slightly off dry giving it a more generous, up front style. In many ways Bronze has been our biggest challenge – to make something with great quality fruit in a low-intervention manner that comes in at a craft beer price point and delivers real cider character. We are immensely proud of its full, ripe apple flavour and balance of freshness that place it clearly within our range.
(Minimum order: 12 cans)